Agricultural drone technology is undoubtedly the future of the Indian agrarian community. It can transform traditional farming methods in uncountable ways. Even though this technology is more complex to be familiar with, it will yield its results in no time once learned.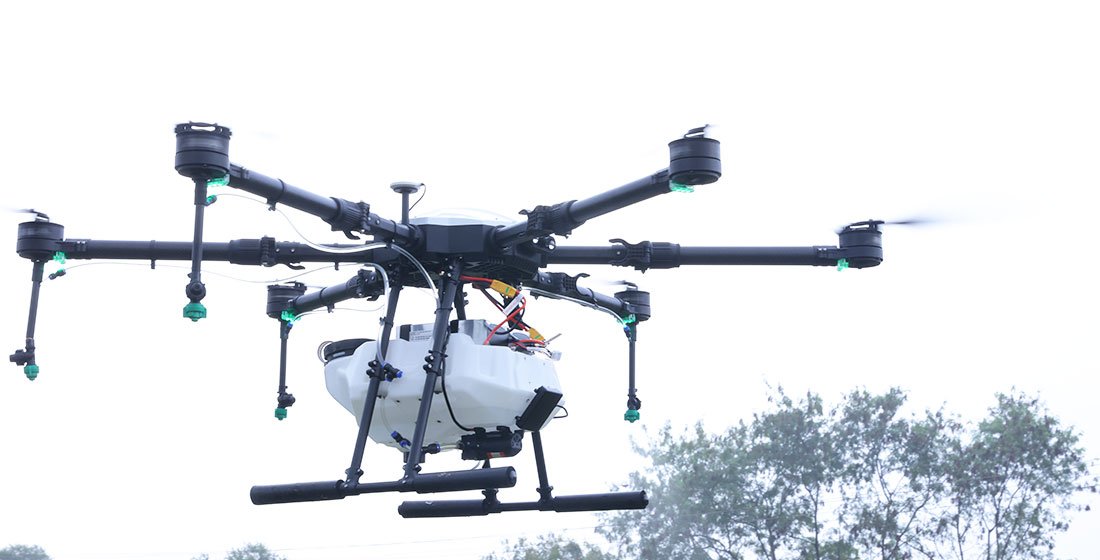 Highlights ofAgricutural Drone
Drones don't merely enhance overall performance but also encourage farmers to solve other assorted barriers and receive plenty of benefits through precision agriculture.
Temperature play a critical role in farming. Agriculture drone empowers the farmer to adapt to specific environments and make mindful choices accordingly. The gained data helps regulate crop health, crop treatment, crop scouting, irrigation, and carry out field soil analysis and crop damage assessments. The drone survey helps boost crop yields and minimize time and expenses.
Specifications For Agricultural Drone
| Agrospear-10L | |
| --- | --- |
| Dimensions | 1300*1100*480 mm (arms open, with propellers) 650*650*480 mm (arms folded, without propellers) |
| Total weight | 10kg (without battery), 24kg (with battery) |
| Max Takeoff Weight | 28kg |
| Hovering time 12min | (24kg takeoff weight) 28min (14kg takeoff weight) |
| Efficiency | Up to 10 acres/hours |
| Max operating speed | 7m/s |
| Max flying speed | 10m/s |
| Operating temperature | -10°C to 50°C |
| Liquid tank volume | 10L |
| Number of nozzles | 4 |
| Spraying span | 4m |
| Theoretical Operating Efficiency | 210,000 m2/day |
| Max Spraying speed | 3.5L/min |
| Ground Controller Max Transmission Range | 1000m |
| Features | Fully Automated Flight Variable Spray rate Flight History Variable Flight speed Low battery warning Auto retumn to home |
| Agrospear-16L | |
| --- | --- |
| Dimensions | 1700*1700*560 mm (arms open, with propellers) 1000*1000*560 mm (arms folded, without propellers) |
| Total weight | 15kg (without battery), 38kg (with battery) |
| Max Takeoff Weight | 40kg |
| Hovering time 8min | (38kg takeoff weight) 20min (21kg takeoff weight) 15min (Spraying Time) |
| Efficiency | Up to 15 acres/hours |
| Max operating speed | 8m/s |
| Max flying speed | 10m/s |
| Operating temperature | -10°C to 50°C |
| Liquid tank volume | 16L |
| Number of nozzles | 4 |
| Spraying span | 4.5 - 5m |
| Theoretical Operating Efficiency | 3,20,000 m3/day |
| Max Spraying speed | 1.6L/min |
| Ground Controller Max Transmission Range | 1000m |
| Features | Fully Automated Flight Variable Spray rate Flight History Variable Flight speed Low battery warning Auto retumn to home |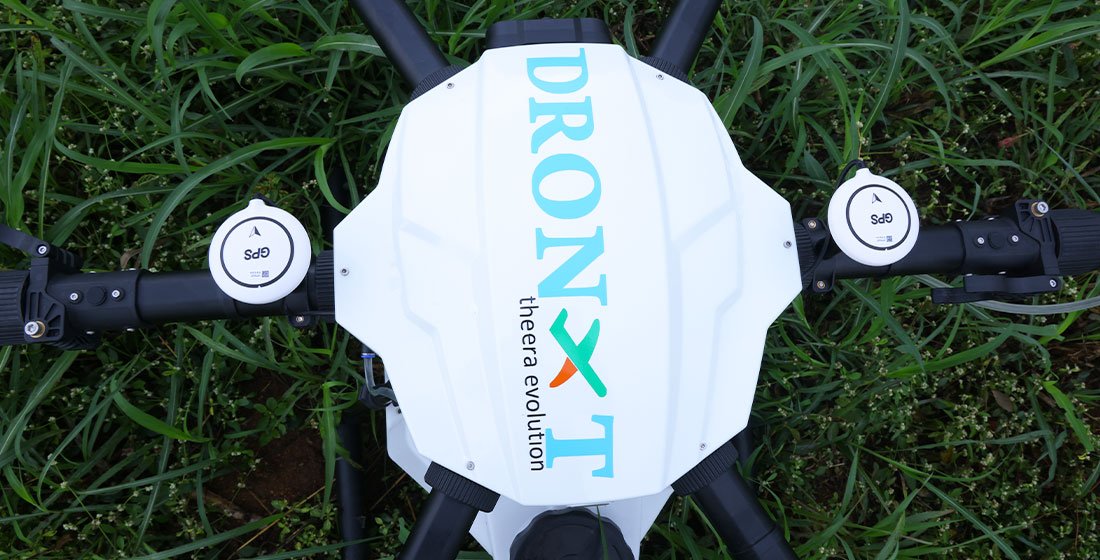 Benefits of Agriculture Drone
Enhanced production
Effective and adaptive techniques
Greater safety for farmers
Faster data for quick decision making
Less wastage of resources
Higher accuracy rate